Mountain Monarchs Arctic Angling Adventures
Come join us on the path less traveled by humans. Many tourist areas have become saturated by the maddening crowds. In Northern Alaska we still offer a wilderness experience to our visitors! We are concessionaires in the Gates of the Arctic National Park & Preserve as well as the Noatak National Preserve, and Kanuti National Wildlife Refuge. This vast, remote area, is the last stronghold of Wild America filled with lakes, rivers and all the solitude your soul can stand!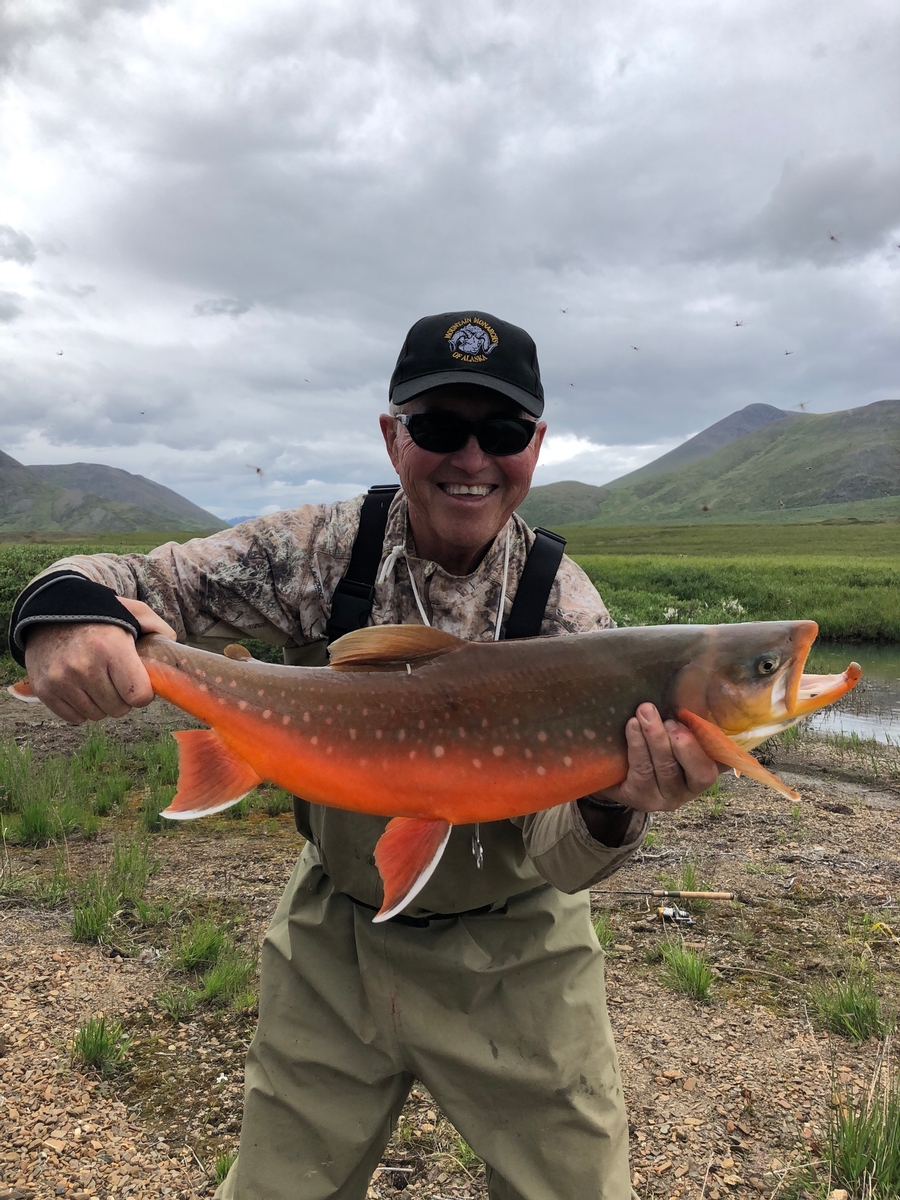 Typical spawning Arctic Char
July - August Arctic Fishing Trips
Arctic Alaska holds some the finest untouched angling opportunities for coveted species such as Arctic Char/Dolly Varden, Lake Trout, Sheefish, Northern Pike, Grayling, Calico & King Salmon. Come join us at our adventure base located at The Ram Hole Lodge in historic Bettles along the Koyukuk River situated at the gateway to the beautiful Brooks Range. From here we will embark by Floatplane or Bushplane on your custom tailored fishing, flight-seeing, rafting/kayaking family vacation. We offer a number of adventures that can be fitted to your daily desires. Just let us know what you like most from fly fishing to spin fishing to watching wildlife or just flight-seeing in a park 4 ½ times the size of Yellowstone, we work diligently to insure a fun filled safe adventure. See in person, Grizzly Bears, Wolves, Moose, Caribou, Dall Sheep and other Arctic mammals in their natural undisturbed environment.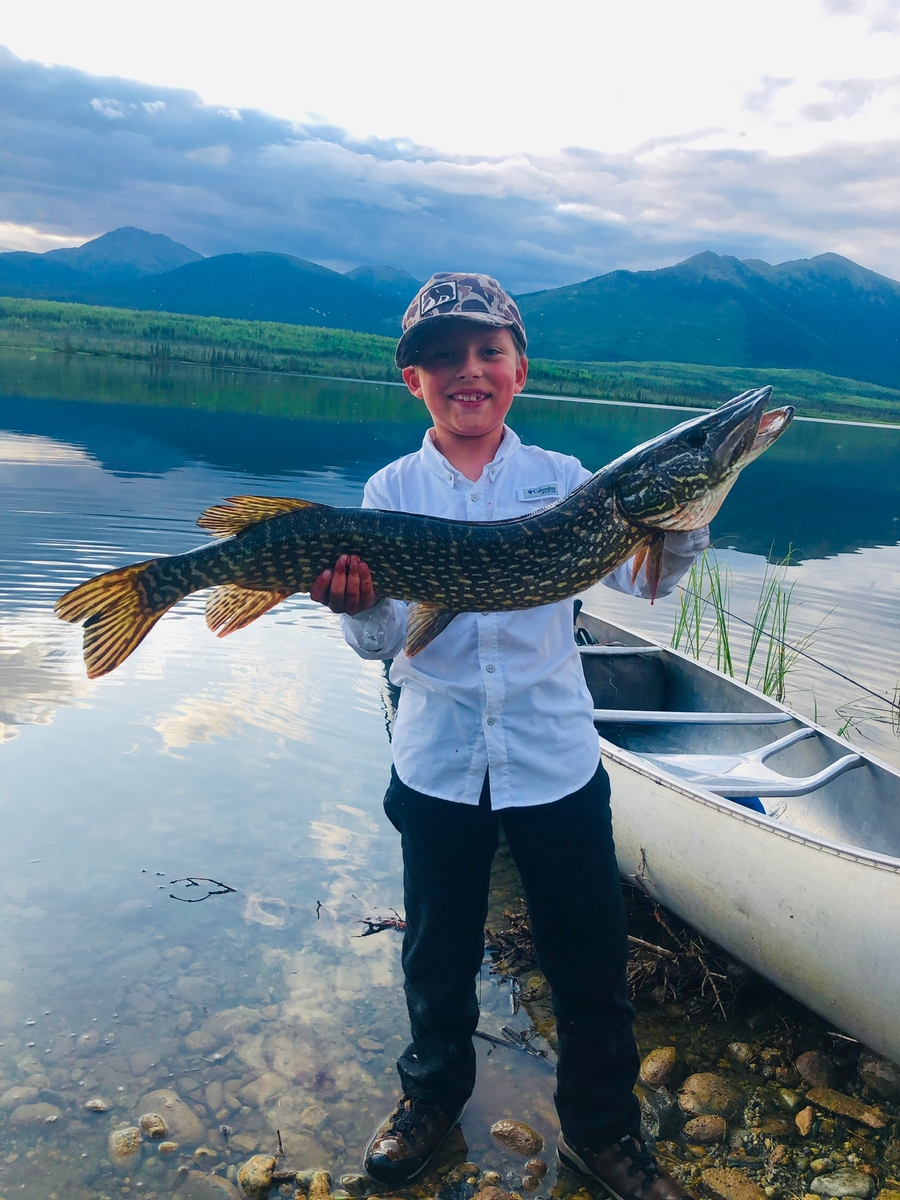 Landon Studer with his first big Northern Pike
Experience Alaksan Hospitality
Peaceful, remote cabins, lodges and paddle boats are available which can easily be incorporated into your adventure package. We can suggest several great offerings and if weather becomes a factor, alter the plan a bit to encompass other opportunities.
Most trips are 5 actual fishing or adventure days with your travel days on each end. In order to provide and cater to our guests we prefer bookings in pairs of two. With a maximum of 4 guests per week. If you would prefer a little longer stay we are pleased to accommodate your needs as long as we know well in advance for scheduling purposes.

Meals are all home cooked, carefully prepared and very tasty. Although we subscribe to the catch and release concept on fish as much as possible, we do often save a fish or two for the grill or shore lunches.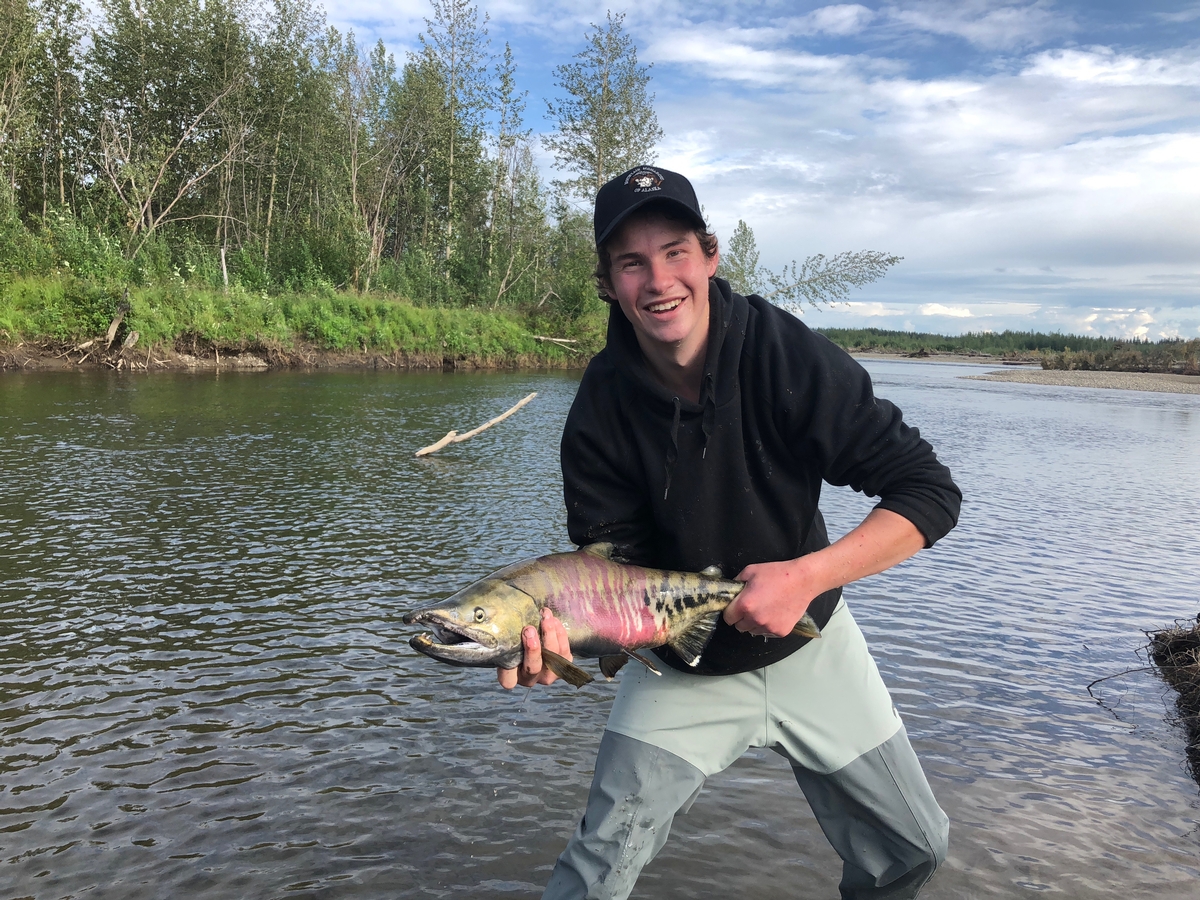 Calico Salmon
King Salmon Fishing Details
Booking: Openings are limited so make your booking early. We require a 50% deposit inside the trip year. Outside of the trip year 30% deposit is accepted. See payment schedule in contract. Wire transfers are recommended for payments – contact Dave for details.

Balance: Personal checks are welcome. All balances are due on June 1 for all fishing trips. See contract for details.

Pricing: Our fishing trips start at $7,250 per fisherman and are priced accordingly for a couple or two friends and one guide. They include 3 fly outs for which ever species you prefer to target.

Custom packages with more fly outs are available and can be tailored to suit your needs. We will be happy to quote a
price once we know your preferences on fishing days. In order to accommodate 4 guests per trip a Beaver Floatplane
will need to be chartered from a local flying service. In this case we will quote a separate price. Inquire with us for more pricing details.
2019 Summer Booking Schedule:
Arrive Saturday, Fish all week and depart on following Saturday
| | |
| --- | --- |
| First Week | July 13th thru July 20th |
| Second Week | July 20th thru July 27th |
| Third Week | July 27th thru August 3rd |