Hunt Barren Ground Caribou in Alaska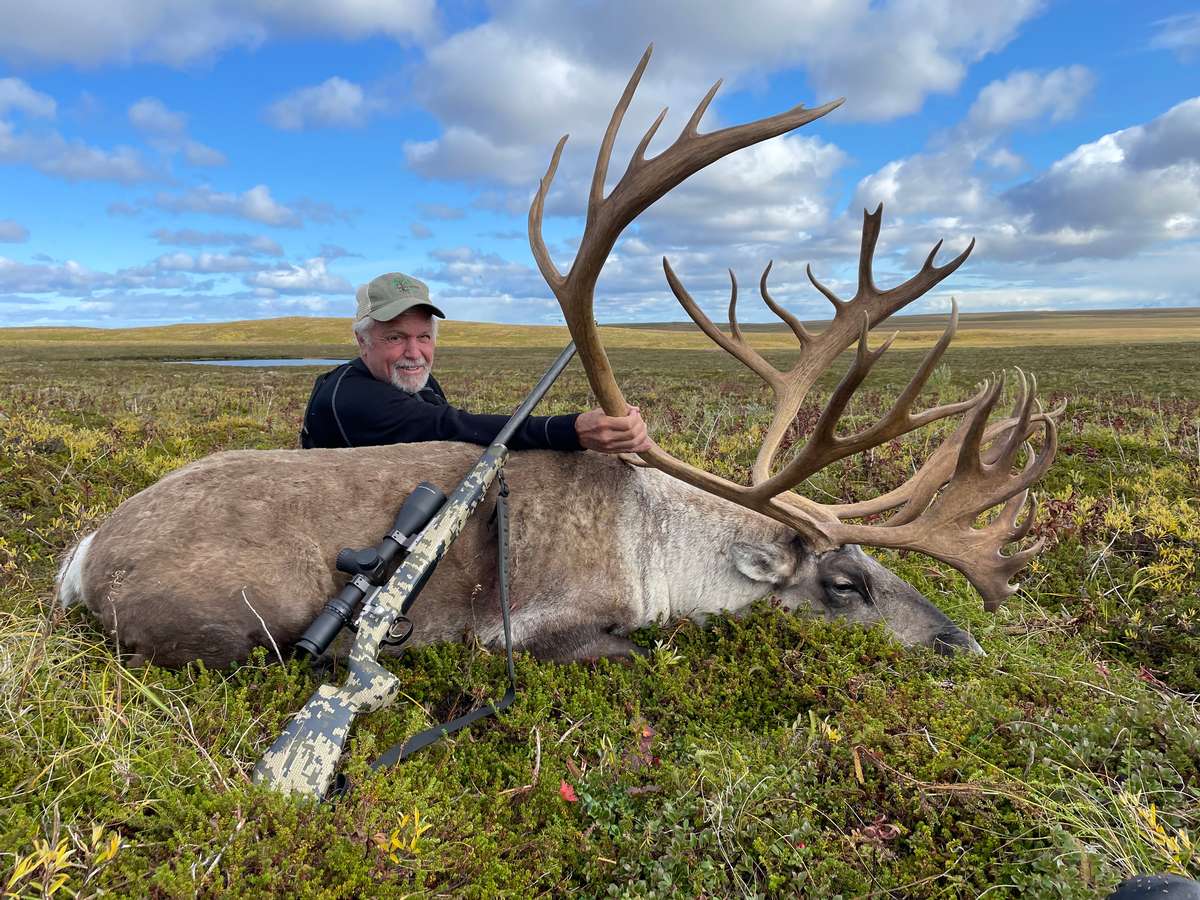 David Alexandrowicz and his 2021 monster bull that scored 432
Though sometimes an overlooked and taken for granted species, a true Alaskan Barren Ground Caribou is a remarkable animal, a fun and adventurous hunt, and a great addition to any trophy room!
Our Alaskan Peninsula Caribou hunts are operated out of our Legendary Brown Bear camp, David River Camp approximately 20 miles SW of Nelson Lagoon. Once arriving at David River Camp on the Bering Sea, you will be hunting either on our two Federal Guide Concessions or onto State Land where bands of caribou have been located. Although the Lower Alaskan Peninsula Herd is not a migrating herd and is smaller than some other herds in the state, they are well known for their great genetics and the potential for a Boone and Crockett animal. You can expect to harvest a bull in the 350 - 400" class with a few bulls a year going over 400". These hunts are 7 days in length and we are now operating every September. Hunt dates are Sept. 16 - 22 and Sept. 24 - 30. On odd numbered years (2023, 2025 etc), we access our hunting areas primarily by airplane where you will be flown out to a spike camp location with your guide to a camp that where trophy bulls have been spotted or expected. This is a tent based hunt where you will be hunting spot and stalk on foot. On the even numbered years (2024, 2026 etc), all of our hunts our based directly from out David River Base Camp. You will be staying in cabins each night and accessing the hunt area via 4 wheelers. This is a great opportunity to hunt in a remote trophy area but with more comfortable accommodations for those not able to or wanting to do a tent based hunt. Success and trophy quality is equal on both of these hunts.

Wolves and wolverine are also available to hunt during this time. Ptarmigan and waterfowl hunting is also open during this time of year and are fun to chase once you are successful with your caribou, if time allows.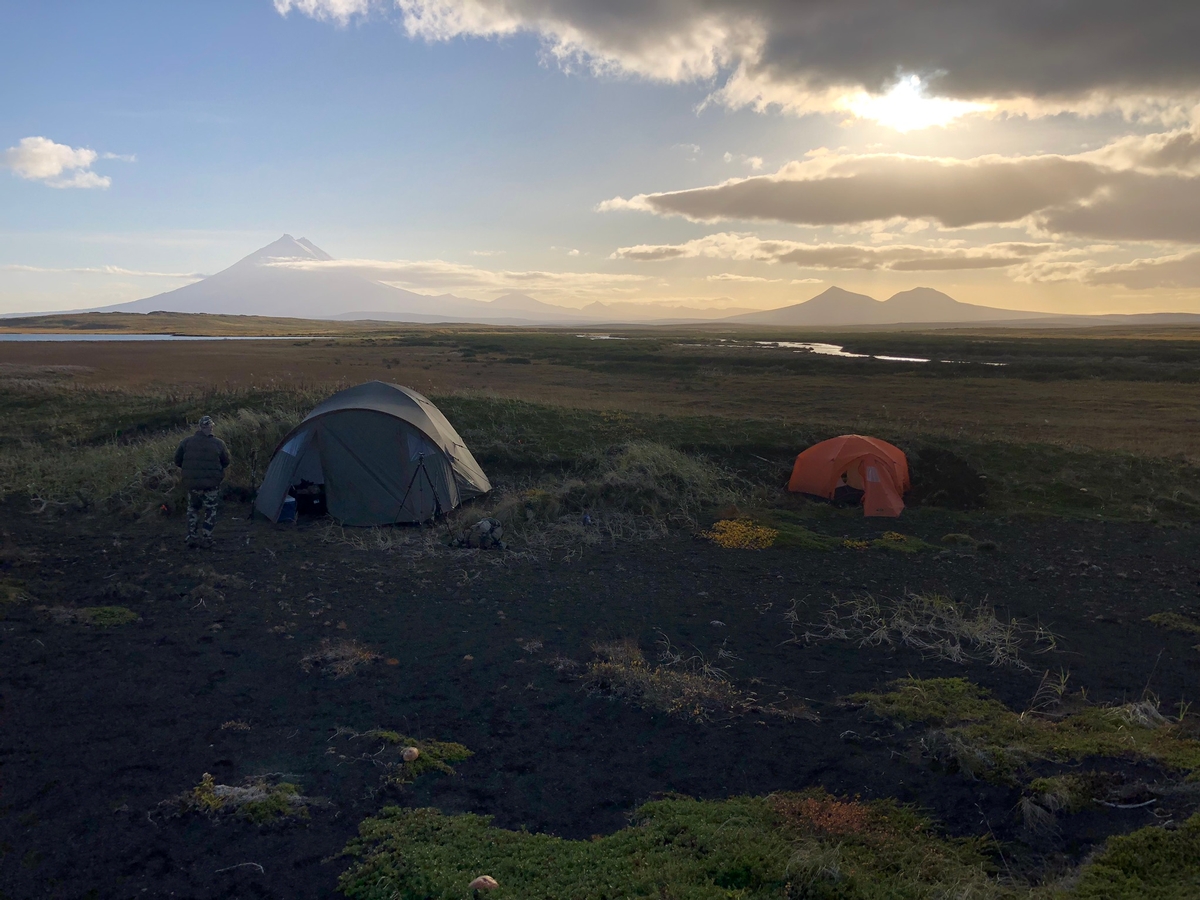 Typical looking spike camp
Spike Camp Accomodations
Peninsula Caribou Camps:
Spike camps are strategically placed via Super Cub at established locations based upon the current movements of the Caribou. This is a spot and stalk style hunt where you and your guide will be glassing from a high vantage point close to camp. Camps usually consist of 2 sturdy expedition grade shelters: 1 for cooking and lounging in and 1 for sleeping in. Along with a heat source, good hot food, and a personable guide, we provide cots, sleeping pads, and sleeping bags to make it one of the most comfortable True Alaskan hunts. Satellite phones are in each camp and each guide checks into base camp each day.
For those hunts conducted out of our David River Base Camp, hunters will stay in cabins with a plywood bunk and heater. Breakfast and dinner will be provided by our Camp Cook. 4 wheelers are used to access the hunting areas close to camp where caribou live and move through. From there, you will be on foot in a traditional spot and stalk hunt.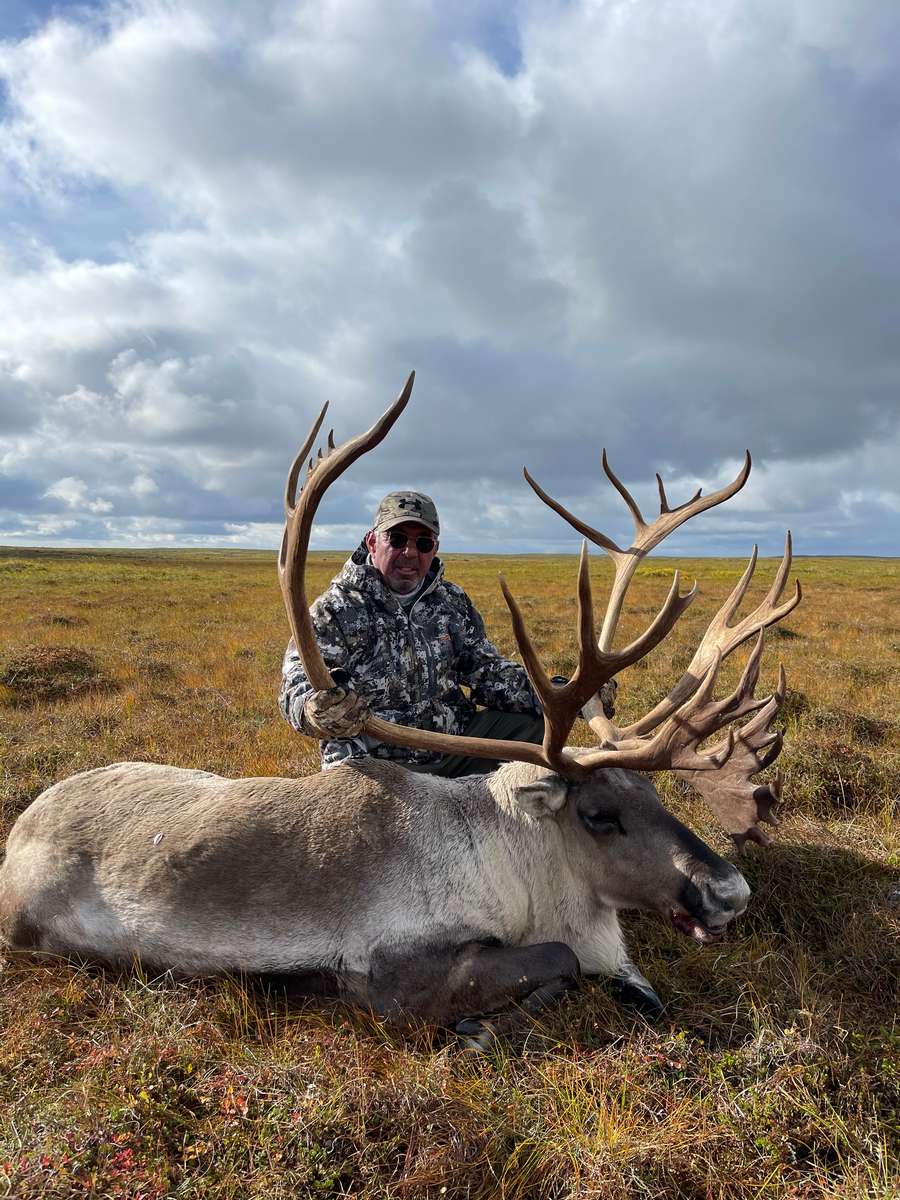 Sal Dilorezo and his 2022 421" B&C bull
Licenses & Tags
You must purchase a hunting license and a caribou tag. You must also obtain a caribou Harvest Ticket for this hunt. The Harvest Tickets are free and are mandatory in order to hunt. You can obtain these online with the Alaska Department of Fish and Game.
| | | |
| --- | --- | --- |
| Alaska Tag & License Fees | Non Resident | Non Resident Alien |
| Hunting License | $160 | $630 |
| Caribou Tag | $650 | $850 |
Barren Ground Caribou Hunts Gallery